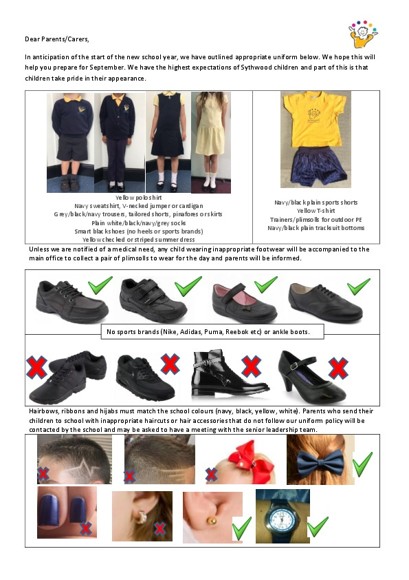 The above poster details the uniform expectations for our school.
All children should wear a navy jumper with a grey skirt, trousers, shorts or pinafore dress. School summer dresses should be yellow check only and children should wear yellow polo shirts (with or without the school logo).
Any hair accessories worn should be in the school colours of navy, black, yellow or white. If children have accessories in different colours then they will be asked to remove them.
School shoes should be proper school shoes with no heels. Boots and trainers are not permitted. Any school shoes should be completely black with no other colours.
Many of the plain items can be bought from local supermarkets, but if you would like to buy uniform with the Sythwood School logo, please visit Griffiths by Valentino at 25-27 The Broadway, Knaphill, Woking, GU21 2DR. Telephone: 01483 473357. These include sweatshirts, cardigans, yellow polo shirts and P.E. T-shirts.
The following are not permitted at our school:
nail varnish
any earrings which are not studs
inappropriate hair cuts
Reminders
Book bags and P.E. bags can be purchased from the school office.
Please ensure that all items that your child wears for school are clearly marked with your child's name.
Every child should have their P.E. kit in school each day in case they have an extra P.E. session or need a change of clothes. Children also need suitable footwear for P.E. Teachers will encourage children to bring their P.E. kit home each half term to be washed.
Pierced Ears: It is Surrey County Council Policy that children may not do P.E. wearing earrings. Plasters stuck over the earrings are not allowed. If you are considering having your child's ears pierced, please do so at the beginning of the summer holidays. We are not allowed to take out children's earrings - they must be able to do it themselves.
Hijabs (head scarves) that join under the chin are not to be worn during P.E. Hijabs that cover the head but are tied behind the neck are suitable.