TT Rockstars, Numbots and Accelerated Reader
Every week we will be using this page to upload examples of work that have been emailed to class teachers. We will be celebrating examples of work that show children being their best. We will also be celebrating children who have been playing TT Rockstars (years 3-6) and Numbots (years R-2) regularly as well as those children who have read lots of Accelerated Reader books/articles (years 3-6).
Mr Cool introduces TT Rockstars
Mr Cool returns to celebrate a rocking times table battle
Mr Cool shares some results from the Easter holiday battles
Mr Cool wants to know 'What's Going On' with our teachers
Mr Cool challenges Mr Cole!
Mr Colebot from Numbot has a special half term message (Year R-2)
Find out more by clicking TT Rockstars (years 3-6) or Numbots (years R-2).
Let your teacher know if you need any help.
Week 1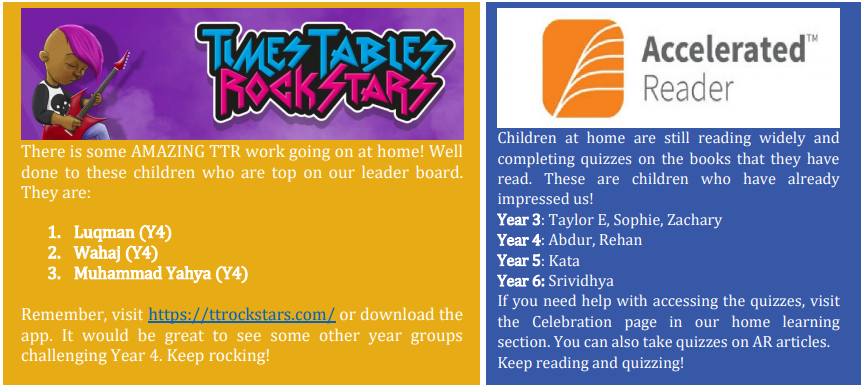 Week 2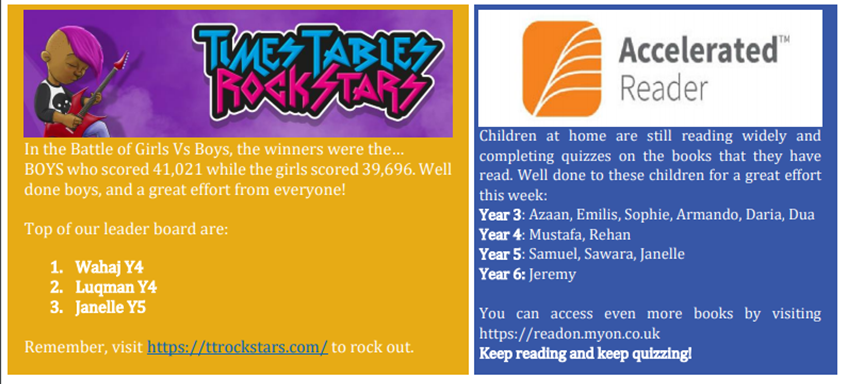 Week 3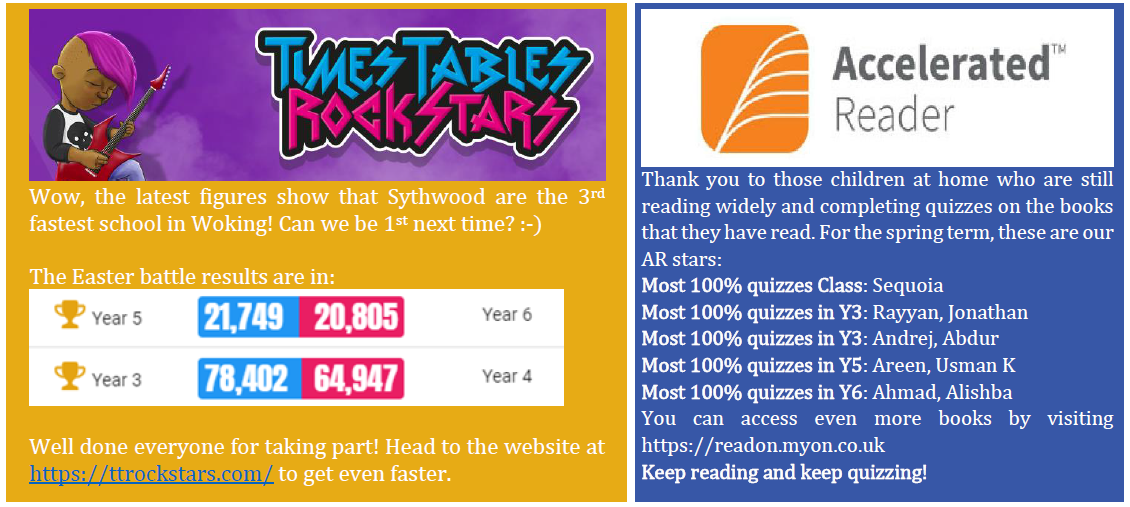 Week 4
Week 5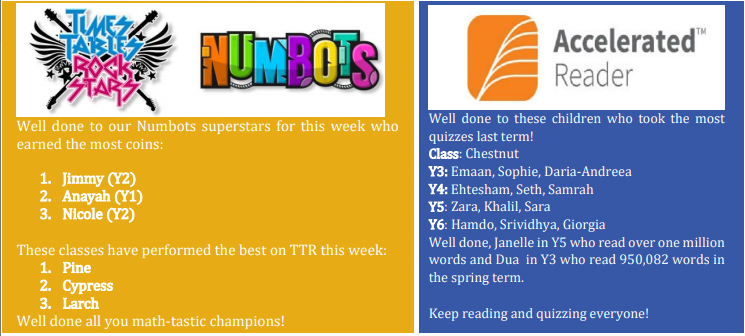 Week 6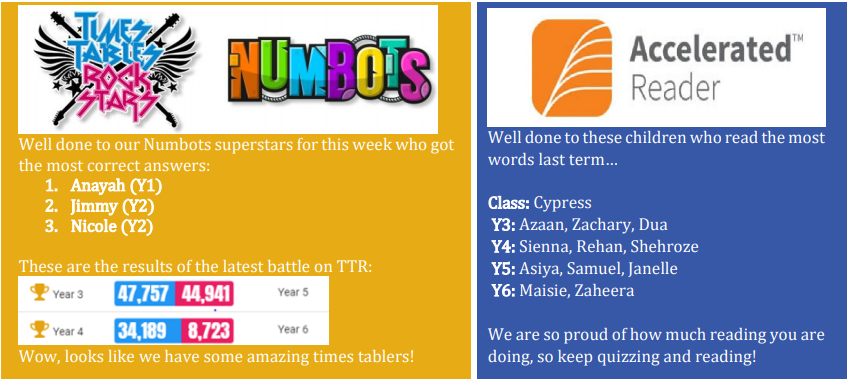 Week 7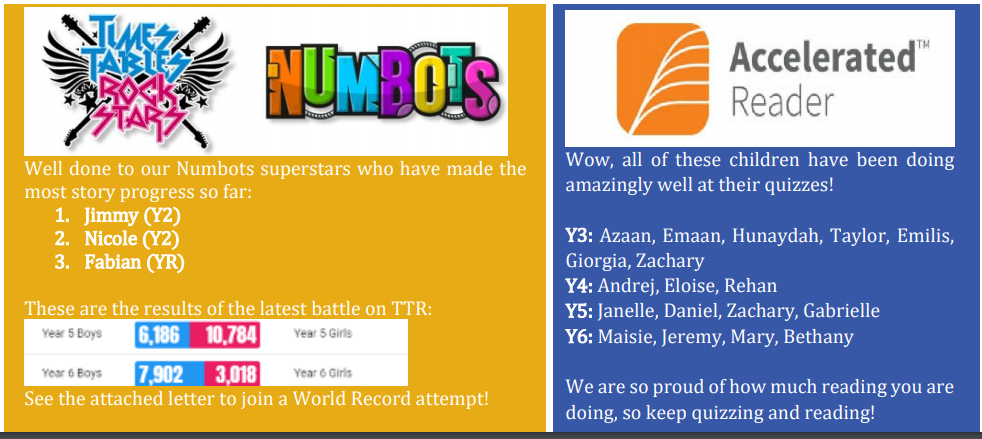 The Big Sythwood Quiz
What a BIG response to The Big Sythwood Quiz!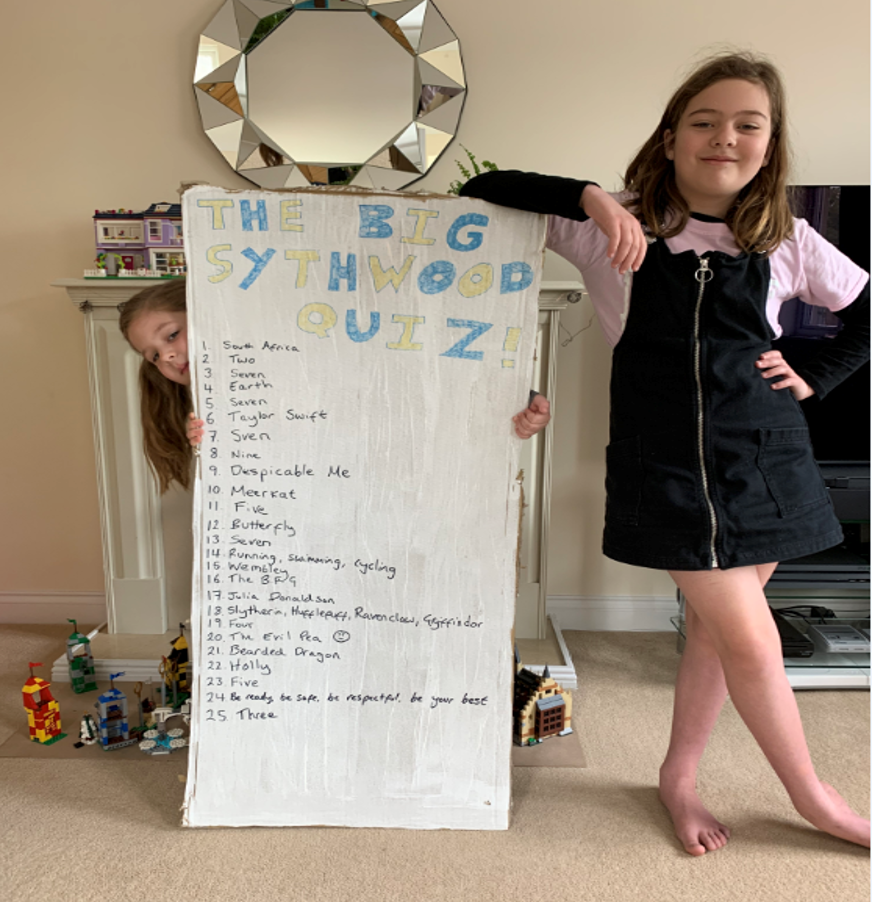 We hope you enjoyed having a go at these tricky questions on your own or with your family. Well done to these children for sending us your answers.
| | |
| --- | --- |
| Nursery | Fatima |
| Reception | Joseph |
| Year 1 | Lavandi, Katie, Salma, Daniel, Connor |
| Year 2 | Iris |
| Year 3 | Lam, Khadijah, Jonathon, Taylor, Reem, Dua, Sophie |
| Year 4 | Orion, Nayraa, Muhammad yahya, Kimmi, Rehan, Ryan |
| Year 5 | Zachary, Sophie, Razvan, Mariam, Janelle, Sebastian, Lauren |
| Year 6 | Haris, Amy, Bulscu, Alba, Erika, Iman, Ruby |
Please find the answers below. Did you get 25 out of 25 correct?